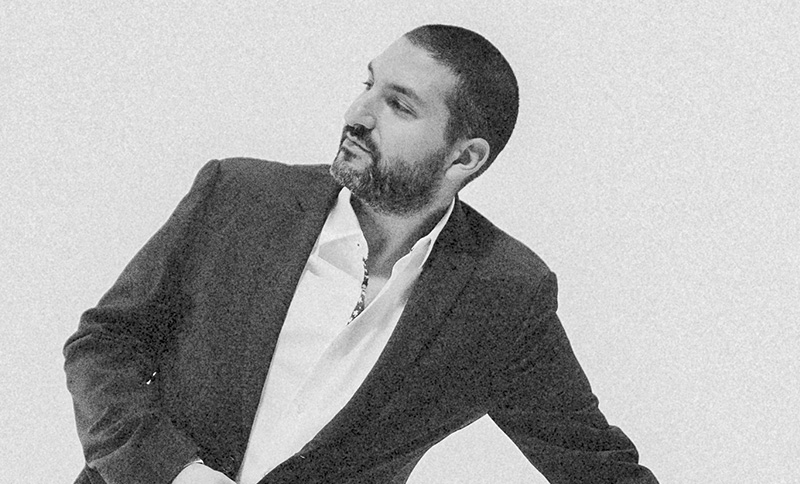 Ibrahim Maalouf and The trumpets of Michel Ange
5. 12. 2023
19.30
Sono Centrum
After almost ten years, trumpeter Ibrahim Maalouf returns to Brno to present Trumpets of Michel Ange – his innovative project, which also bears his unmistakable signature. He will take us to a world where folklore and modernity merge into one whole.
Ibrahim Maalouf was born in 1980 in Beirut into a family that was literally living by arts. He is the son of trumpeter Nassim Maalouf and pianist Nadi Maalouf, nephew of writer Amin Maalouf and grandson of journalist, poet and musicologist Rushdi Maalouf. By the way, it was his father who invented the fourth-piston trumpet in the 1960s, on which Ibrahim still plays music with quarter tones and other microintervals.
After his family fled from Lebanon during the civil war, Ibrahim studied science in France until he was 17 and dreamed of becoming an architect. At the same time, however, he came to the attention of the professional music community when he gave a phenomenal performance with a chamber orchestra of Bach's second Brandenburg Concerto, considered by many trumpeters to be the most difficult classical trumpet piece. It was then that he met the legendary trumpeter and teacher of his father, Maurice André, who inspired him to entirely devote himself to music. The path of the artist thus took precedence over the prospect of a scientific career and, after graduating from the Paris conservatoire, the trumpeter gave himself a reputation for performing mainly classical repertoire before the public. However, classical music alone was soon not enough for him. Already in his childhood he was enchanted by improvisation, arabic maqams and the desire to entertain people, so Ibrahim wanted to connect with wider audience. Over the past fifteen years he has produced, composed, arranged and directed more than twenty albums for himself and other artists. He has also composed more than ten symphonic works and twenty film soundtracks. At the same time, he has never stopped expressing his affection of the trumpet and improvisation. The year before last, he published the book Petite philosophie de l'improvisation and initiated the creation of the radio show called Improbox on TSF Jazz, which emphasizes the importance of improvisation in all professions. Indeed, Ibrahim describes himself as an activist for the reintegration of improvisation into music teaching and national education.
In his latest project, whose title refers to the Italian genius Michelangelo, Ibrahim Maalouf, as usual, embarks on a work that combines sophistication and complexity with accessibility to the widest possible audience. It is rooted in jazz, pop and world music, but it was also created under the unmistakable influence of urban music. Maalouf is arguably the most popular instrumentalist on the French music scene today. His popularity on the home scene, combined with work for the film industry, means that Maalouf's trips abroad are becoming increasingly rare. A concert at JazzFestBrno thus has all the requirements of being one of the main musical events of the autumn.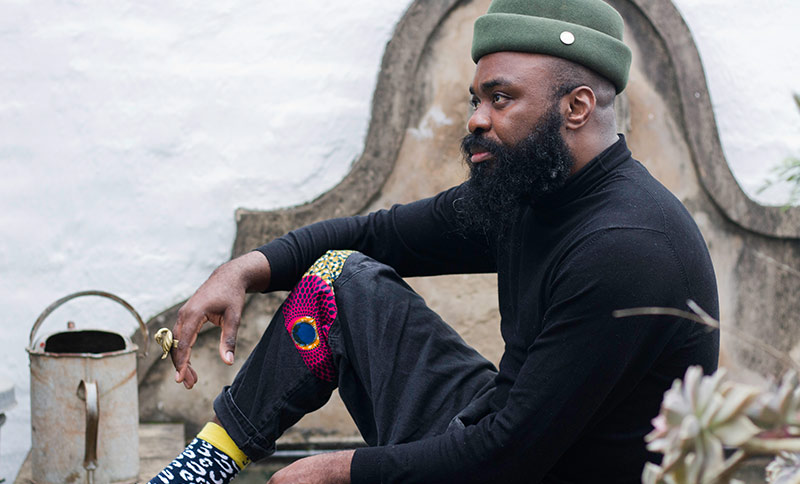 Nduduzo Makhathini 
31/1/2024, 19.30
Cabaret Dés Pechés
Playing championship, but also a spiritual continuity with South African history. A deep rootedness in the traditions of his country, but also a broad outlook across all jazz lands. An enduring presence on home turf and a worldwide concert engagement on the most prestigious stages. South African pianist, composer, and producer Nduduzo Makhathini is all of these.
He likes to talk about the fact that for a long time he was only interested in sacred music. He comes from the Zulu nation, which produces warriors who see music as their motivation. And he points to the spiritual dimension of the work of the older South African jazzmen, led by Abdullah Ibrahim. "The older musicians put a lot of emotion into their music," he says. "I feel there is a uniqueness in South African jazz that has sparked interest around the world, but we are slowly losing it. I think it's very important for our generation to be very conscious of preserving those nuances in the music they play today."
Nduduzo Makhathini himself came to jazz relatively late. He opened the door by listening to John Coltrane's A Love Supreme, featuring McCoy Tyner on piano. "It evoked for me the way my people talked, sang and danced," he explains. He studied jazz piano at Durban University, has performed with many of South African artists, and in 2014 founded his own music label, Gundu, for which he has recorded a series of epic albums, including the 2016 title Icilongo – The African Peace Suite, which featured a guest appearance by the biggest name on the contemporary progressive British jazz scene, Shabaka Hutchings. That same year in return for that he invited Nduduza Makhathini to join his band Shabaka and the Ancestors and to record the album Wisdom of Elders. Increasingly frequent travels around the world took the pianist to such prestigious venues as the Blue Note Jazz Club in New York and Lincoln Center, where he was the featured guest at The South African Songbook gala concert. He was accompanied by the famous Jazz at Lincoln Center Orchestra, led by Wynton Marsalis. Nduduzo Makhathini's last two albums, Modes of Communication: Letters from the Underworlds and In the Spirit of Ntu, were released by the major label Blue Note, the former of which was named one of the best jazz albums of 2020 by the New York Times.
Line-up:
Nduduzo Makhathini – piano, Zwelakhe Duma Bell Le Pere – double bass, TBD drums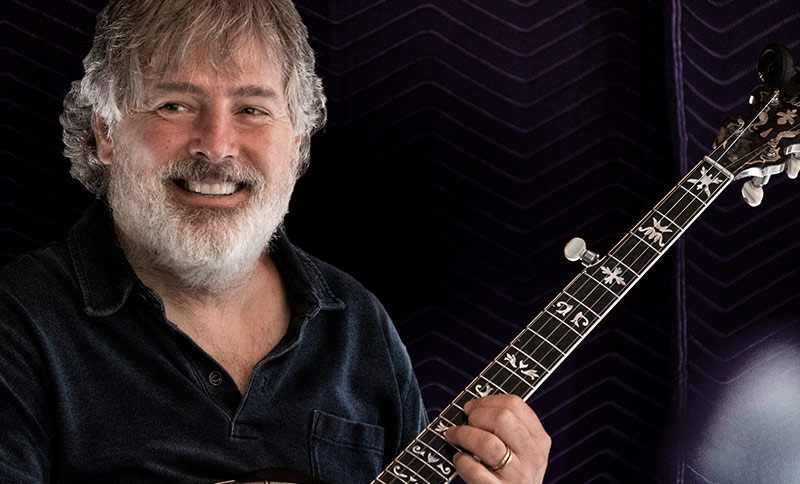 Béla Fleck
My Bluegrass Heart
15/2/2024, 17.00 a 19.30
Sono Centrum
Sixty-five-year-old composer and banjo player Béla Fleck is definitely one of the most important musicians of our time and is undoubtedly the biggest star in his instrumental field. This is due not only to his virtuosity, but also to his extremely wide musical range. It has enabled him to collaborate with many and many of artists from all over the world and across genres, from American jazzman Chick Corea to Irish blues-rocker Rory Gallagher or many world music representatives from India and Africa. With all of them, he was able to absorb their musical impulses, but also add a good dose of his own talent and worldview to the collaborative projects. For thirty-five years, he has been performing an original mix of everything he has picked up on his musical journey with his band Flecktones, which brings an original synthesis of bluegrass, jazz, funk and electronica.
Although he is a New yorker, Béla Fleck's musical background stems from his love of Southern bluegrass, which he fell in love with after being introduced to the banjo, an instrument given to him by his grandfather, at the age of fifteen, and taking his first steps from the legendary Pete Seeger's book. After moving to Kentucky, he became a member of the famous New Grass Revival, a band composed mostly of musicians who are absolute stars on their instruments, such as dobro player Jerry Douglas and mandolinist Sam Bush. And although the group ended its main phase of activity in 1989 and its members have mostly gone on solo careers, they meet periodically not only under the old name but also in other joint projects.
Fleck's ones are the most closely watched. In 2021, Béla Fleck released a double album titled My Bluegrass Heart, completing a trilogy of albums that began with 1988's Drive and continued with 1999's The Bluegrass Sessions. All of them were co-written by old colleagues from New Grass Revival, but the latest title is very original in one thing: it introduces, alongside the legends, the fresh blood of a genre that, on the one hand, maintains traditions, but at the same time can literally boost its most musical protagonists to music that is stylistically overlapping, instrumentally accomplished and yet emotionally very impressive.
The live version of the My Bluegrass Heart project, which Béla Fleck will bring to Brno in 2024, will feature mostly representatives of the younger generation alongside the classical musician. Both those who have directly contributed to the album in guest roles, such as the brilliant violinist Michael Cleveland, the star mandolinist Sierra Hull or guitarist Bryan Sutton, and other musicians who represent the absolute professionalism of today, capable of playing virtually any instrument from the "bluegrass family", Justin Moses and Mark Schatz.
Line-up:
Béla Fleck – banjo, Michael Cleveland – violin, Sierra Hull – mandolin, guitar, Justin Moses – guitar, Mark Schatz – bass, Bryan Sutton – guitar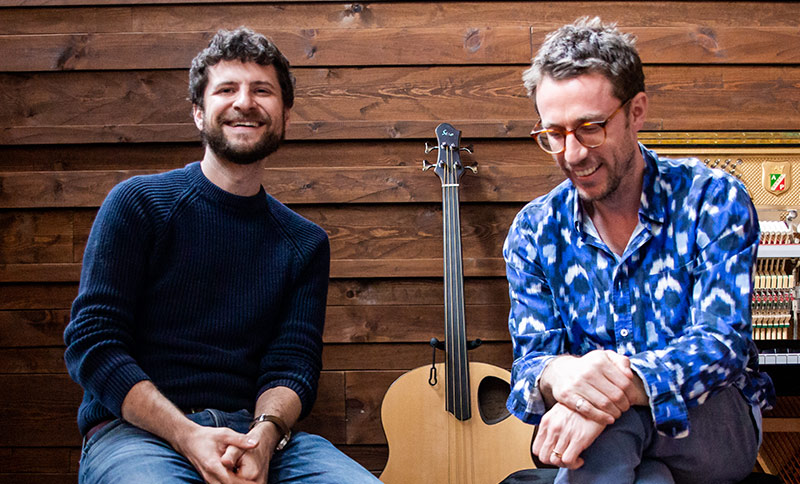 Bill Laurance & Michael League
17/2/2024, 19.30
Besední dům
Almost twenty years ago, multi-instrumentalist and composer Michael League founded the band Snarky Puppy, which has become almost an institution in the fusion of genres of different provenience, from jazz to rock to various shades of world music. Sitting at League's side almost from the beginning has been Bill Laurance on keys. The two men have "made a name for themselves," so to speak, in a side project, the all-acoustic Where You Wish You Were, which became one of the big events of 2023.
The heart of the forty-year-old Californian Michael League beats mainly for his home band, there is no doubt about that, he has already won five Grammys with them, and that is certainly not something that can be waved away with a single hand gesture, especially in the American environment. However, his great reputation as a musician is elevated by his other work, which cannot be called anything other than genre-gluttony. Not only has he toured or recorded with jazz capacities of the caliber of Terence Blanchard, Joshua Redman, and Chris Potter, but he's delved into other specific American genres alongside singer Erykah Badu, mandolinist Chris Thile, and phenomenal singer-songwriter David Crosby, as well as North African music with such stars as Salif Keita, Fatoumata Diawara, and Bassekou Kouyate.
He and Bill Laurence, a British three years older than him, have been very close friends since their college days, and in addition to their time in Snarky Puppy, they've had many musical adventures together, starting with working for David Crosby and ending with League's production, composing, arranging and playing on a number of Laurance's solo albums. But it wasn't until the spring of 2023 that the two (and, of course, their many fans) had to wait for an opportunity to actually play just the two of them, and in a slightly different way than they're used to. But Where You Wish You Were is no studio massage, using a rich studio spectrum of electric instruments capable of creating layered walls and surfaces of sound at the snap of a finger. Both musicians turned to intimacy and acoustic instruments – Laurance to piano and League to acoustic bass, guitar and fretless Arabic oud lute. Both musicians will use the same instrumentation in their concert in the acoustically perfect environment of Brno's Besední dům. That this will be a great musical event of the beginning of 2024 is a foregone conclusion.
Line-up:
Bill Laurance – acoustic piano and voice, Michael League – oud, fretless acoustic guitar bass, fretless baritone electric guitar, ngoni and voice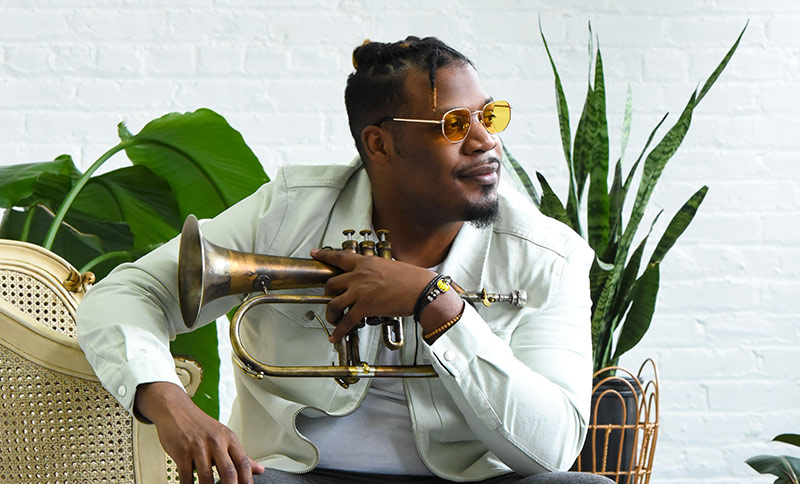 Keyon Harrold 
13/3/2024, 19.30
Cabaret Dés Pechés
When, in the final concert sequence of the biopic Miles Ahead, shortly before the credits, a sharp trumpet note cuts through the air and is joined by a band whose members are stars like Wayne Shorter or Herbie Hancock, it seems that the film's protagonist, Miles Davis, was resurrected to record. Not so. The brilliant part, performed on screen by Don Cheadle, was recorded by none other than one of the stars of JazzFestBrno, American trumpeter Keyon Harrold.
The trumpeter's genetic input could not have been better: he is one of sixteen children from Ferguson, a suburb of St. Louis, and the whole family has been and is more or less devoted to music. Indeed, his second album, The Mugician, features ten of his siblings. Their music is all-genre, but always so-called black: blues, jazz, funk and hip hop. Keyon Harrold himself speaks of Miles Davis, Prince and Dr. Dre as his main idols, to name but a few.
Keyon Harrold went to New York to study jazz music at The New School, where his classmate was Robert Glasper, now one of the biggest stars of jazz crossover. Quickly after graduating, Harrold managed to establish himself among the elite of studio and sideman musicians, and in this capacity he has worked with a long list of global music stars, from singers Beyoncé, Rihanna and Mary J. Blige to rappers Jay-Z, Snoop Dogg, 50 Cent and Eminem, to the big names of the jazz scene Gregory Porter and David Sanborn.
Keyon Harrold made his solo debut in 2009 with the album Introducing Keyon Harrold, then spent many years working on side projects, perhaps the most memorable of which is his participation on the aforementioned 2015 film soundtrack for Miles Ahead, which, incidentally, earned him the nickname Cheadle, after the civilian surname of the actor's Davis. It wasn't until 2017 that he came up with his second album, The Mugician, which features, among many others, Davis' film bandmate, blues-funk star Gary Clark Jr. and old school friend Robert Glasper. Like a great many African-American musicians, Keyon Harrold takes musical expression not just as "art for art's sake" but as a way to express his views on the state of society and politics – so it's no coincidence that several of the album's tracks are inspired by the death of Michael Brown, who was shot by a police officer in 2014 in the trumpeter's hometown of Ferguson.
Line-up:
Keyon Harrold – trumpet, vocals, Nir Felder – guitar, Cedrick Mitchell – piano, Burniss Travis – bass, Charles Haynes – drums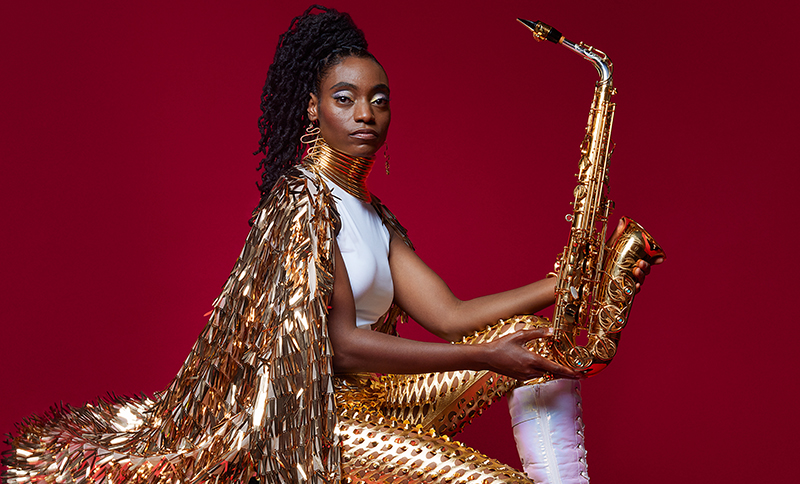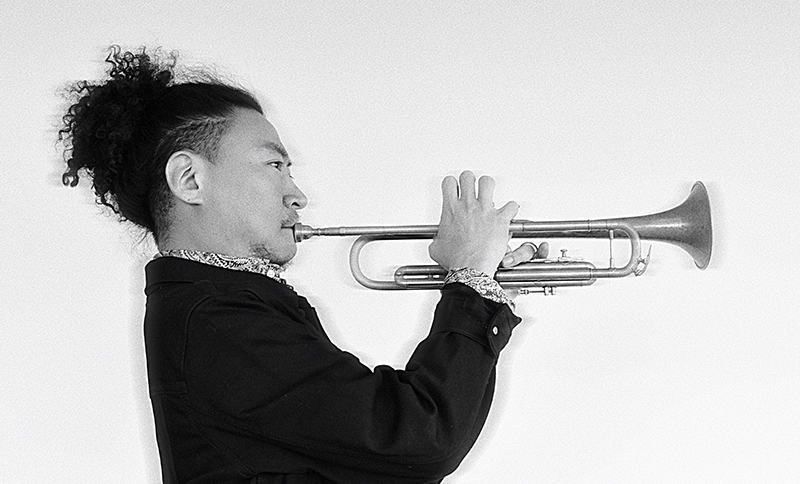 Lakecia Benjamin
Takuya Kuroda: Midnight Crisp
21/3/2024, 19.30
Divadlo Husa na provázku
Almost all contemporary musicians refer to or build on the classics of modern jazz; it is simply not possible to bypass the basics. Only the best, however, can combine these roots with current practices and transform the result into something original and, moreover, quite contemporary. The young New York saxophonist Lakecia Benjamin succeeds.
As an American of Dominican roots, she started with Latin American music in elementary school, when she discovered the saxophone. In high school she discovered jazz, especially the classics in their modern form, and was most enchanted by John Coltrane. But she had the advantage that the family she grew up in was active in listening to music, so soul, her grandmother's favourite genre, and 90s hip hop, her mother's favourite, also ran through the house. It is no wonder, then, that Lakecia Benjamin's musician's soul has never erected artificial barriers and boundaries. As a talented young musician, when she began to shake things up behind the backs of more famous musicians, it was no problem for her to "switch gears" from the music she played on her first "jobs" with veteran trumpeter Clark Terry or with the orchestras of Count Basie and Duke Ellington to the hip hop or pop she pursued in the touring bands of rapper Missy Elliot or pop singer Alicia Keys.
However, a talented artist like Lakecia Benjamin is undoubtedly not OK with playing just in backing bands, even if they are of the highest quality. She first realised her desire for personal expression in 2012 with her debut Retox, but it wasn't until her third album Pursuance: the Coltranes in 2020 that she made a real mark in the world as a solo artist. As the title suggests, the album is a tribute not only to her long-time role model John Coltrane, but also to his wife, the extremely interesting and perhaps somewhat underrated multi-instrumentalist and composer Alice. For the recording of the album, the protagonist managed to assemble an impressive array of excellent musicians, including such stars as Ron Carter, Dee Dee Bridgewater, Regina Carter and Meshell Ndgecello. The album was then produced by veteran double bassist Reggie Workman, who, among other things, went through the Coltrane Quartet in the 1960s.
In September 2021, Lakecia Benjamin narrowly escaped death in a serious car accident in which, among many other injuries, she also broke her jaw, obviously a crucial part of the body for a saxophonist. It is no coincidence that the healed artist named her next and last album Phoenix after the mythical bird that rises from the ashes.
Line-up:
Lakecia Benjamin – sax, Zaccai Curtis – piano, Ivan Taylor – bass, EJ Strickland – drums
Japan is a secret jazz superpower, we've known that for quite a few years now – mostly through musicians who set out for world fame after relocating to the United States, where they usually studied music and settled down to be closer to the jazz epicentres. In the past, the famous pianist Hiromi has performed at JazzFestBrno from this area. Her compatriot, trumpeter Takuya Kuroda, is coming in 2024.
The 33-year-old musician comes from the big city of Kobe on the Japanese island of Honshu. At school he was involved in a big band, where his older brother was a trombonist, but as a young man he realised that his talent would be best developed in the United States, where he moved at the age of twenty-three to attend seminars first at Boston's renowned Berklee College of Music and then at New York's The New School, where his major was jazz and contemporary music. Here he befriended singer Jose James, mixing jazz with hip hop, guesting on two of his albums, and James returned the favour by producing Kuroda's album Rising Son.
Thanks to the multicultural and genre-less environment of New York, Takuya Kuroda developed his distinctive musical style, which after years of searching evolved into a mix of funk, post-bop, fusion and hip hop. He has realized his vision on prestigious labels such as Blue Note, where, in addition to the aforementioned Rising Son album, he also participated in the Blue Note Voyage special album project with other Japanese jazz musicians, or on the Concorde label, where he released the record called Zigzagger in 2016.
At the end of the last decade, Takuya Kuroda began working in the studio in a more experimental way. He created the foundations of his compositions himself, creating basic musical textures and beats from various "field" recordings, and adding his trumpet, instruments, and vocals of other musicians. "I wanted to make an album that wasn't just a bunch of flashy singles trying to grab people's attention in the first thirty seconds, or full of guest musician parts. Instead, I'm basically just trying to let the grooves breathe," says Takuya Kuroda of 2020's Fly Moon Die Soon, the first and immediately critically acclaimed flagship of his new approach to music, which he then perfected on his latest release to date, last year's mini-album Midnight Crisp.
Line-up:
Takuya Kuroda – trumpet, Corey King – trombone, Lawrence Fields – piano, Rashaan Carter – bass, Adam Jackson – drums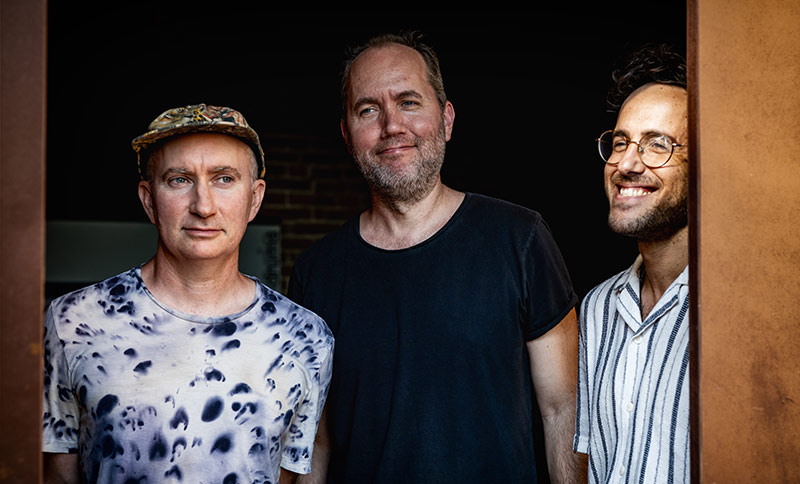 Trio Grande  
26/3/2024, 19.30
Cabaret Dés Pechés
"Bold and pleasantly unpredictable." That's how the critic of the prestigious Downbeat magazine described the first album of this all-stars project, released at the end of 2020. And that goes for its live shows too, even though the stellar Antonio Sánchez has been replaced on drums by the equally excellent Nate Wood.
Trio Grande originally brought together guitarist Gilad Hekselman, saxophonist Will Vinson and drummer Antonio Sánchez to record an eponymous album. "It's much more than just a star-studded session; it's an extraordinary union. Each player brings their unique vision, but the sum total is fresh and exciting," Downbeat continues. The project created a fusion between jazz, funk, rock, and even Caribbean music. The absence of a bass instrument is not without interest – the deepest notes are catered for by the guitarist with the help of electronic effects, resulting in an extremely dense harmony.
The musicians in the trio are extremely experienced. New York-born Israeli Gilad Hekselman has played with Anat Cohen, Esperanza Spalding, Chris Potter and John Scofield, among others, and has ten albums of his own original material to his credit. Native Londoner Will Vinson, who met fellow Hekselman after moving to New York, is a regular member of Gonzalo Rubalcaba's band, and his own bands, with whom he has recorded six albums, have included such notable musicians as Lage Lund, Jeff Ballard, Aaron Parks, Kurt Rosenwinkel and Shai Maestro.
After the first stage, which featured Antonio Sánchez on drums but never went live due to the cover, American drummer (but actually an admirable multi-instrumentalist) Nate Wood appeared on drums. A member of Kneebody and at least occasional collaborator with an interesting array of stars from George Harrison to Sting to Tigran Hamasyan to Donny McCaslin, he has four solo albums to his credit. He is currently enlivening Trio Grande concerts with his incredible technique, which allows him to provide both drums and bass guitar at some points in the show. With Will Vinson mastering the keyboards as well as the saxophone, and Gilad Hekselman colouring the sound of his instrument with a wide range of additional effects, Trio Grande is able to create a rich sound on stage far beyond the usual jazz trio capabilities. Such an unorthodox approach to musical material is definitely worthy of close attention.
Line-up:
Will Vinson – sax, keys, Gilad Hekselman – guitar, Nate Wood – drums, bass guitar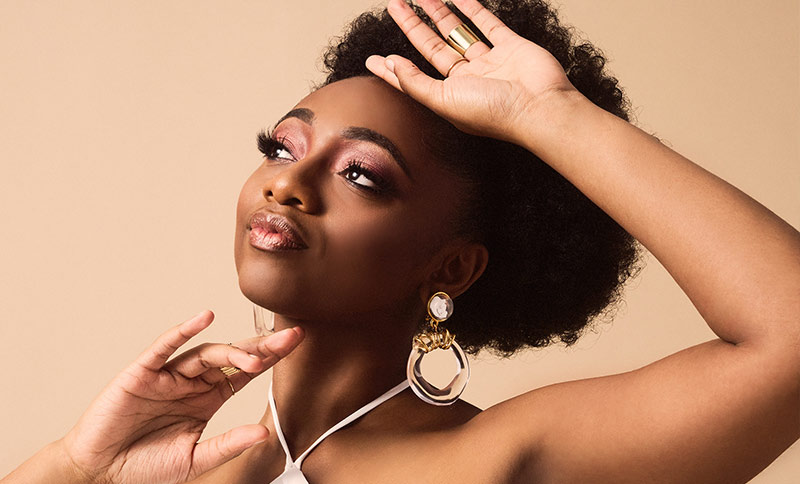 Samara Joy  
13/4/2024, 19.30
Sono Centrum
In 2022, she impressed at a concert in Tišnov, also organized by the crew of JazzFestBrno, and two years later she will be one of the main stars of the festival and will sing in Brno's Sono Centre. The career of the young New York singer has taken off at rocket speed.
Jazz has returned to the main, or supra-genre, categories of the Grammys in 2023 after years of being in the spotlight, and the unbelievable has happened. It certainly took twenty-four-year-old Best New Artist winner Samara Joy by surprise. The young singer is only the second jazz artist on the roster of female winners in the history of these awards. The first was singer and double bassist Esperanza Spalding in 2011. Samara Joy's victory is all the more remarkable because, unlike her predecessor, who was more broadly focused and took her cues from funk and pop, the current winner of the category makes no compromises. She is a jazz singer in the most classical sense of the word, following in the footsteps of such ladies as Billie Holiday, Ella Fitzgerald and Sarah Vaughan – from whose repertoire she chooses the songs she performs in concert and on the two albums she has released so far. The latter, last year's Linger Awhile, brought the singer her second Grammy this year, this time in the genre category of Best Vocal Jazz Album.
She was born in the Bronx, New York, which, by the way, she still hasn't left, into a musical family primarily focused on gospel – her grandparents were founders of the gospel group The Savettes, her father played bass guitar in gospel groups, and it is clear that Samara, full name Samara Joy McLendon, gained her first experience in a gospel church choir. Jazz found her in art high school, where Samara's classmates invited her to join the school band. At a competition at the prestigious Lincoln Center institution, she picked up the award for best high school jazz singer and subsequently enrolled in New York University's jazz department, made possible by a scholarship awarded by the Ella Fitzgerald Foundation, eventually winning a competition named after another jazz singing star, Sarah Vaughan, but most importantly, she released her first album in collaboration with Matt Pierson, a "heavyweight" among jazz producers, which is truly a worthy launching pad for her career. The influential Jazz Times magazine named Samara as the best new artist for 2021. The singer has launched a very active career both in terms of touring and social media presence, with her YouTube and TikTok clips and recordings starting to rack up incredible "numbers" for the jazz genre. The same continued when she released her second album, Linger Awhile, in the fall of 2022. Before that, she did her first European tour, which included a stop in Tišnov. That its visitors would have suspected that they were about to see a girl who in a few months will be applauded by the world's celebrities when she goes to receive the Grammy Award, no way. Now, at the Sono Center, we'll know who we're dealing with.
Line-up:
Samara Joy – vocals, Luther Allison – piano, Michael Migliore – bass, Evan Sherman – drums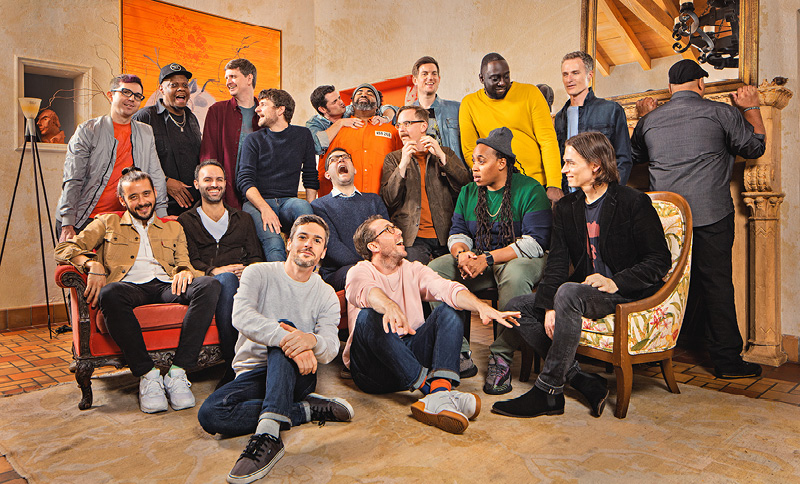 Snarky Puppy
1/5/2024, 19.30
Sono Centrum
At their Brno premiere in October 2022 at the Sono Centre, they deservedly caused a big stir. On May 1, The Lover's Day, including those in love with jazz, Snarky Puppy will celebrate their twentieth anniversary at the same venue and present their latest album Empire Central, which earned them a Grammy Award in the Best Contemporary Instrumental Album category. It's their fifth in a row.
The band's story began in the Texas town of Denton, where the first-ever college jazz department has been in operation since 1947. Bassist Michael League, who founded Snarky Puppy as a ten-piece for a school project, is an alumnus of the school. After premiering at J&J Pizza on the Square and performing journeyman duties at other, often obscure, venues in Denton, the bandleader decided to record a debut album on the low budget while executing the first-ever tour of small clubs and student parties. The band's entire first decade of operation was similar – they repeatedly crisscrossed the States, playing any hole-in-the-wall venue where a promoter dared to risk their involvement.
Meanwhile, the bandleader and a few of his contemporaries moved to nearby Dallas to gain a foothold in the local gospel and R ́n ́B scene. A turning point turned out to be the 2010 album Tell Your Friends. During recording it, the band not only harnessed the power of performing live in front of audiences, but also mastered their marketing method and their music finally reached a wider audience. The first European tour didn't take long to get underway and the band jumped on a wave of interest that continues to this day. Another significant step up the popularity ladder came in 2013, when Snarky Puppy's collaboration with singer Lalah Hathaway earned them their first Grammy Award for Best R ́n ́B Performance. Another Grammy Award they eraned for the albums Sylva, Culcha Vulcha and Live at the Royal Albert Hall.
The year 2022 was the Snarky Puppy's year of a great comeback – they returned to the concert stages and released their fourteenth album, Empire Central, which was once again rewarded with a Grammy Award. "The individual players and personalities on stage are constantly pushing the songs in new directions, which is the main magic of touring for me. I love seeing the songs grow," says bandleader Michael League. We'll see him, by the way, on February 17 at the Besední dům, where he'll present his all-acoustic project with longtime Snarky Puppy pianist Bill Lauranco in a separate concert.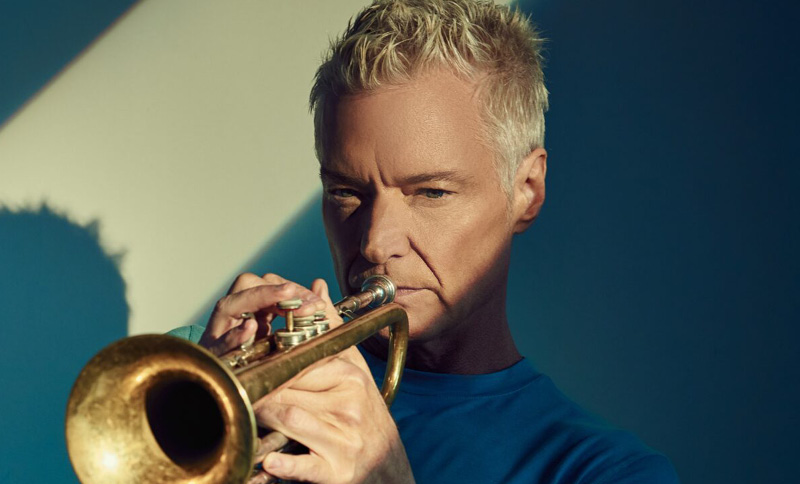 Chris Botti  
12/5/2024, 19.30
Janáčkovo divadlo
Probably everyone has trumpeter Chris Botti associated with Sting, with whom he worked both in concert and on recordings. But Botti's career is influenced by a long line of other stars in various genres. Now, in his late sixties, he has returned to the beginning and released an eventful chamber album on the extremely prestigious jazz label Blue Note.
He started playing the trumpet at the age of nine, but fell completely in love with it three years later when he heard Miles Davis play. He devoted his entire life to the trumpet – his high school and college studies, and all his free time during them. During his final year at university he entered the jazz league, touring with Frank Sinatra and Buddy Rich. At the same time, he never wanted to be confined to a purely jazz box, playing standards in clubs, attracted by big stages and audiences of thousands of people. But he was never going to compromise on the quality of the music he would play. Throughout the 1990s, he collaborated with Paul Simon, and another important musicians like Aretha Franklin, Joni Mitchell or Roger Daltrey.
At the end of the decade, Botti was noticed by Sting, invited to appear on his later highly successful album Brand New Day, and for a few years he was also invited to join his touring band, where he became the lead soloist. Botti recorded many other albums with Sting and his parts always complemented the mood of the singer's songs.
In the following years, Botti continued to collaborate with many stars of popular music, but he increasingly confirmed that he would make his career on his own, with his own name and his own skills not only as an instrumentalist but also as a composer. He had already recorded solo albums in the 1990s, but it was Night Sessions in 2001 that was the real breakthrough, on which Botti was able to combine jazz playing with a sound that appealed to a wide pop audience in an unprecedentedly tasteful way, creating a unique form of so-called smooth jazz. The definitive confirmation of the right path was the album Impressions, which not only reached number one on Billboard's jazz chart, but more importantly brought its author his first Grammy Award, in the category of Best Pop Instrumental Album.
In the year of his sixtieth birthday, Chris Botti reached another imaginary peak: he was signed by the legendary Blue Note label. "Anyone lucky enough to say out loud that they record for Blue Note Records should pinch themselves," he says. "It's a fantastic honor." He wanted to bring something really special to the environment of the label that made jazz history. So he decided to offer his music in the most concentrated form possible. "I wanted to get rid of all the orchestral arrangements and special guests and focus more on my playing, my band's playing and the jazz classics we love to play on stage," says Chris Botti about his current album, which has been given the brief but very promising title Vol. 1.
John Scofield: Yankee Go Home
Noble-Slavík-Clarvis Trio
Melissa Aldana Quartet
Kurt Rosenwinkel Quartet
Alan Bartuš: Solology
Udi Shlomo Quintet
Poogie Bell – Juraj Griglak Band
Koncert Katedry jazzu JAMU
Chris Morrissey
Kurt Elling feat. Charlie Hunter: SuperBlue
Simon Phillips: Protocol V
Donny McCaslin feat. Jason Lindner, Jonathan Maron & Zach Danziger
CED – Divadlo Husa na provázku
Kronos Quartet: 50 let na scéně
Concept Art Orchestra & Helge Sunde: Music for Lights & Shadows
Clayton-Hamilton Jazz Orchestra feat. Akiko Tsuruga & Dan Bárta
CED – Divadlo Husa na provázku
Ondřej Pivec Greatest Hits 4000
CED – Divadlo Husa na provázku
Jaga Jazzist
Aid Kid dj set