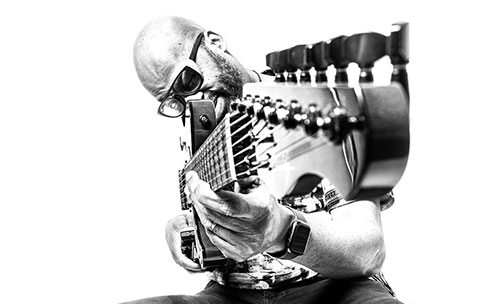 Lionel Loueke & Friends
31. 1. 2023
19.30
Cabaret des Péchés
Guitarist Lionel Loueke comes with his latest solo project inspired by the work of Herbie Hancock to play with his Czech friends – David Dorůžka, Luboš Soukup and Jiří Slavík.
Over the past two decades, Benin-born Lionel Loueke has left a visible imprint on the world music scene, both with his own work and his unmissable role in the bands of jazz personalities such as Herbie Hancock, Terence Blanchard and Gretchen Parlato. Jazz Times magazine describes him as a musician who "is deeply respected by peers and older bandmates alike for his individualism, rhythmic ability and massive harmonic knowledge, as well as his ability to sing in one meter and play in another one or the way he turns the guitar into a virtual Afro-Western orchestra." The leitmotif of Loueke's new solo album HH is the music of his mentor Herbie Hancock, with whom the African guitarist has played for over fifteen years. Loueke has influenced Hancock's hits and lesser-known songs with his own unmistakable sound. It is the repertoire from the new album that will show one of Loueke's many faces.
The charismatic guitarist will introduce the next such face in the second part of the concert, when he will be exclusively joined by his Czech friends – his classmate from Berklee College of Music, guitarist David Dorůžka, saxophonist Luboš Soukup, who recorded the successful album Earth with Loueke, and last but not least, double bassist Jiří Slavík, who has always been close to African music and has also played with Loueke before. In short, mix four handfuls of Herbie Hancock, add three pinches of local jazz, pour on a few litres of African immediacy and a unique musical cocktail is born.
Line-up:
Lionel Loueke – guitar and vocals, David Dorůžka – guitar, Luboš Soukup – saxophone, Jiří Slavík – double bass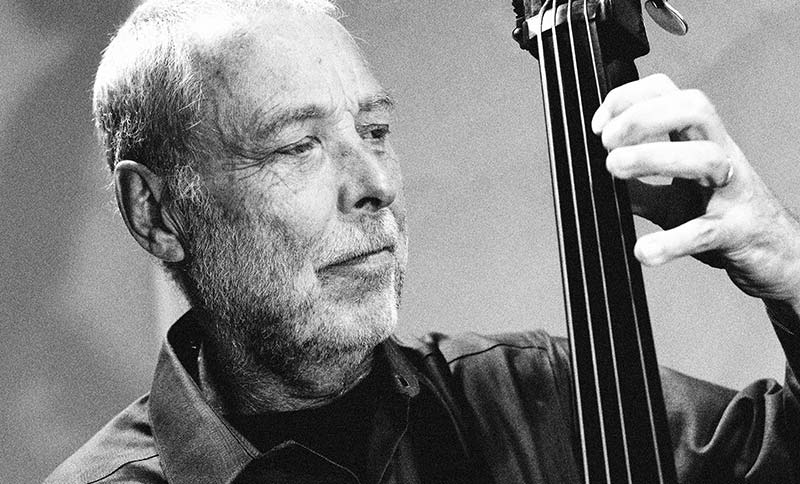 Dave Holland Trio
7. 3. 2023
19.30
Sono Centrum
Jazz legend Dave Holland can impress in many ways – in a solo double bass recital, as the engine of a jazz combo and with the sophisticated arrangements of his original big band. For his Brno premiere, he has chosen a trio with his favourite long-time bandmates Eric Harland and Kevin Eubanks.
He was plucked from the UK by Miles Davis in the middle of an engagement at the famous Ronnie Scott's club, where Dave Holland sharpened his jazz spurs as a "house bassist" in the late 1960s, and soon became a part of jazz history for the first time. He recorded three immortal classics with Davis, Filles de Kilimanjaro, In a Silent Way and Bitches Brew. His influence on history of jazz has been described many times, Holland proved his exceptionality both as a collaborator and as a bandleader. Indeed, Holland soon discovered that in addition to his ability to work in the service of musical visionaries of the calibre of Davis, Henderson, Hancock, Corey, Brecker, Metheny and Braxton, he also had a gift as a bandleader. In 1972, he recorded his Quartet for ECM, which has appeared in many personnel changes throughout Holland's career. He could also metamorphose himself as a member of a quintet or an entire big band, always with enviable line-up. The most contemporary version of Holland's home band takes the form of a jazz triangle, with guitarist Kevin Eubanks and drummer Eric Harland occupying the tops alongside the leader himself.
Holland's role as a bandleader blends naturally with his role as a composer, his prolificacy is breath-taking. He has again written the core of the repertoire for the current trio, but Eubanks, who has made significant compositional contributions before, for example on the Holland Quartet's fantastic Extensions album from the late 1980s and early 1990s, has written some compositions too. For Eubanks, in fact, this trio is a bit of a homecoming after he spent fifteen years as bandleader on NBC's famous The Tonight Show and, after leaving that engagement in 2010, performed primarily with his own band.
Dave Holland has a nose for teammates. Which is not surprising, since he has been a disciple of the greatest master, Miles Davis. In the company of Eubanks and Harland, he brings to mind, among others, his style-making guitar trio Gateway with John Abercrombie and Jack DeJohnette.
Line-up:
Dave Holland – double bass, Kevin Eubanks – guitar, Eric Harland – drums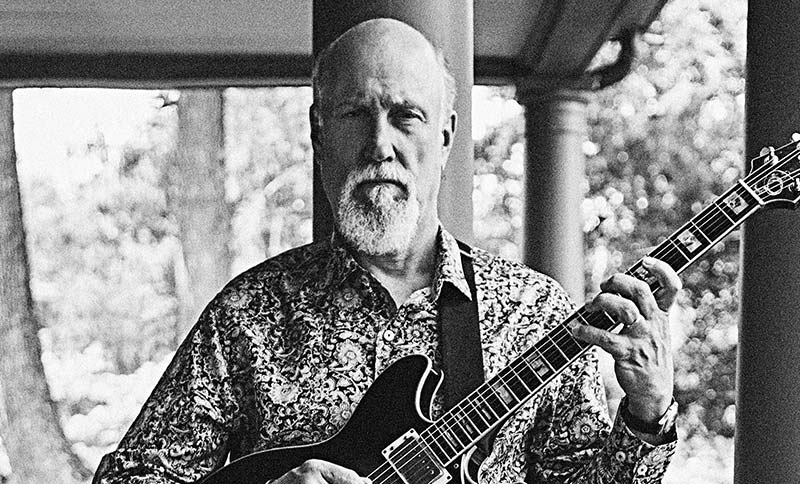 John Scofield: Yankee Go Home
9. 3. 2023
19.30
Sono Centrum
Years ago, guitarist John Scofield literally rocked the sold-out Sono Center with his covers of the biggest country hits. Now, he returns to the scene with a fresh repertoire that consists of the familiar songs of his youth.
An artist who can play more than one style of music with real fluency, virtuosity and sincerity is a very rare breed today. A look into Scofield's discography is staggering, his stylistic range is incredible. Judge for yourself: mainstream, jazz-rock period, he is also well known and highly regarded for his playing in Miles Davis' band in the early 80s. Equally high are the collaborations with Joe Henderson, Joe Lovano, the catchy big band album Quiet with Wayne Shorter, the jazzy hits with Herbie Hancock's The New Standard project, interpretations of Ray Charles songs, excursions into the world of gospel with the Piety Street Band, and the aforementioned Country for Old Men, with which he visited JazzFestBrno in 2016 to show fans what can be done with often simple country songs.
The latest addition to Scofield's unusually diverse portfolio is a project called Yankee Go Home. "The title is a bit of a pun for me, that we ˈYankeesˈ are taking over the music of our homeland. This band plays Roots-Rock-Jazz, which is one way of defining it, although, if I'm honest, I don't like doing it!" says the three-time Grammy Award winner. Yankee Go Home's concept is to cover americana and rock hits and jazzed-up folk songs, which complement a selection of Scofield's original compositions written in that vein. Scofield reconnects with his teenage rock 'n' roll roots, which he naturally leavens with his 50 years of jazz experience. Neil Young, Stevie Wonder, the Grateful Dead, Sting and Leonard Bernstein are just a glimpse of Scofield's inspirational sources. The band is made up of Jon Cowherd, keyboardist Cassandra Wilson, bassist Vicente Archer, known for his work with Robert Glasper, and drummer Josh Dion, among others. "These guys are remarkably versatile, just as good as it gets when it comes to interactive, creative playing. We explore rock, funk, country and jazz and have a fantastic time doing it," Scofield adds.
Line-up:
John Scofiled – guitar, Jon Cowherd – piano, Vicente Archer – double bass, Josh Dion – drums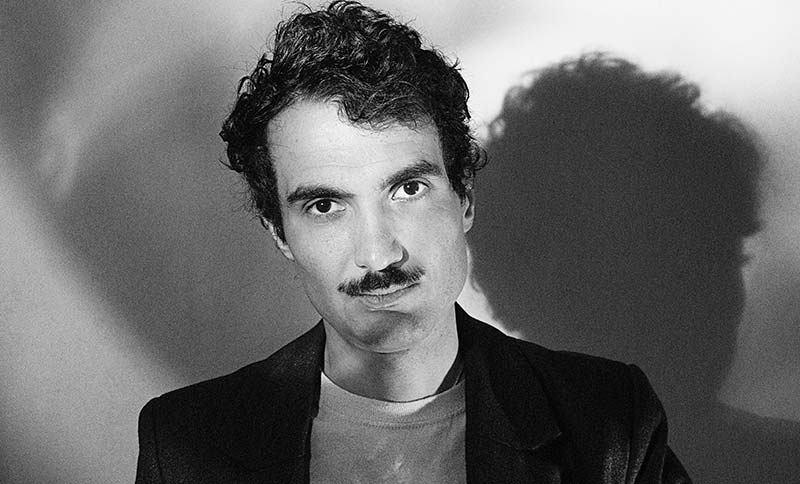 Tigran Hamasyan Trio
24. 3. 2023
19.30
Sono Centrum
Pianist Tigran Hamasyan spent formative years on the Los Angeles and New York scenes, but he has never denied his Armenian roots in his music. On the contrary. Now, for the first time ever, he takes on the iconic songs of the Great American Songbook, and he does so without awe or exaggerated respect.
Hamasyan is a unique figure among pianists. He excels at bringing sophisticated and challenging music to a wider audience. "I compose and play what comes from my heart – that seems to be the trick," explains the pianist himself, who as a toddler tended to play with tape recorders or a piano instead of the usual children's toys. After all, even at the age of three he was already looking for ways to play Beatles, Louis Armstrong, Led Zeppelin, Deep Purple or Queen songs on the piano. When he was 16, his family moved to the United States, where Hamasyan soon won a number of piano competitions, including the top prize in the Monk Competition. A trophy all the more valuable because the jury was chaired by Herbie Hancock. From then on, Hamasyan's professional career began to take shape, during which he has already released ten albums.
The latest one, released in 2022, is called StandArt and features arrangements of songs from the Great American Songbook performed by the Hamasyan Trio, which also includes bassist Matt Brewer and drummer Justin Brown. "If there's any downside to the new versions of songs from the Great American Songbook that vocalists and jazz instrumentalists release every year, it's the shared sense that the songs are sacred. It's as if everyone who handles Laura or Body and Soul has signed a non-aggression pact and promised to only tread lightly among the basic building blocks of these songs," says Hamasyan. What's happening at StandArt is the exact opposite. Familiar melodies just bubble up subtly while every other aspect of the music undergoes vivid and surprising transformations. Hamasyan approaches these songs as an exercise in theme and variation. He balances pre-prepared surfaces with the moment-to-moment spontaneity of improvisation, and the result is new ways of hearing old melodies. The restless Hamasyan, who in the past decade has released recordings that collide wistful folk melodies with dense heavy metal thunder, is simply not interested in parroting the old language. A nimble thinker, he loves the standard repertoire – but not its standard treatment. He looks for something special in it and creates his own world.
Line-up:
Tigran Hamasyan – piano, Rick Rosato – double bass, Jonathan Pinson – drums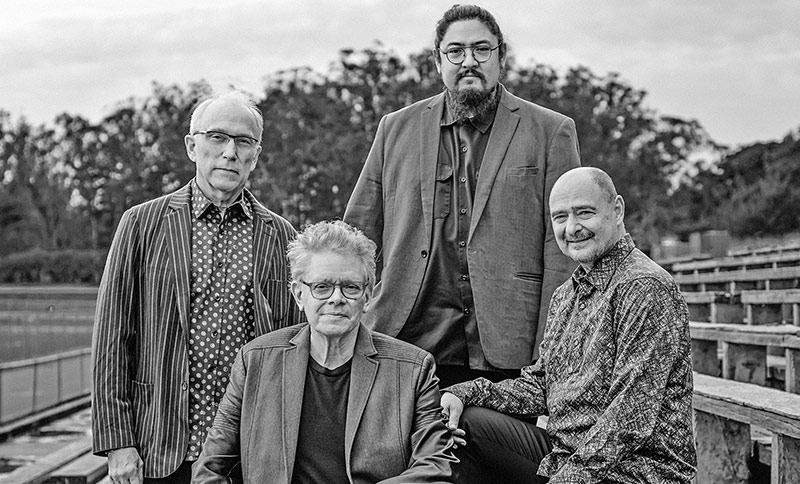 Kronos Quartet: 50 years on the scene
9. 5. 2023
19.30
Sono Centrum
The renowned string ensemble Kronos Quartet celebrates its anniversary in 2023. It has been on the music scene for an incredible 50 years. But still with the same charm and, above all, with an unquenchable desire to constantly explore new musical horizons.
Music publicists classify the Kronos Quartet as "contemporary music" at first, but those who go below the surface do not forget to mention the jazz influences that are invisibly imprinted in the quartet's music. The fact that the music of the Kronos Quartet has much more in common with jazz than it might seem at first glance is proven by the concert at the JazzFestBrno festival, which the band will be attending for the very first time as part of the celebration of 50 years of its existence.
The basis of the Kronos Quartet's work is the long-term cooperation with many world-famous composers. The ensemble's collaborators include many composers dedicated to minimalism. Terry Riley is one of them, and collaborations with Arvo Pärt, Philip Glass, Kevin Volans and Steve Reich, whose composition Different Trains, recorded by the Kronos Quartet, won a Grammy Award, have also been important. Over the course of the ensemble's existence, over 600 compositions have been written for it. "I look for music that is a certain expression of emotion. When I talk to composers, I talk to them on that level. I don't want them to write just another song in a series. I want the most amazing piece of music," says the ensemble's founder, violinist David Harrington. At the same time, the Kronos Quartet has been forming its successors for a long time. For its 50th anniversary, it has created a project called 50 for the Future, a free digital library of fifty contemporary works designed to guide string quartets in developing and honing the skills needed to perform 21st-century repertoire. Quartet's current world tour setlist will be defined by that library.
Line-up:
David Harrington – violin, John Sherba – violin, Hank Dutt – violin, Paul Wiancko – violoncello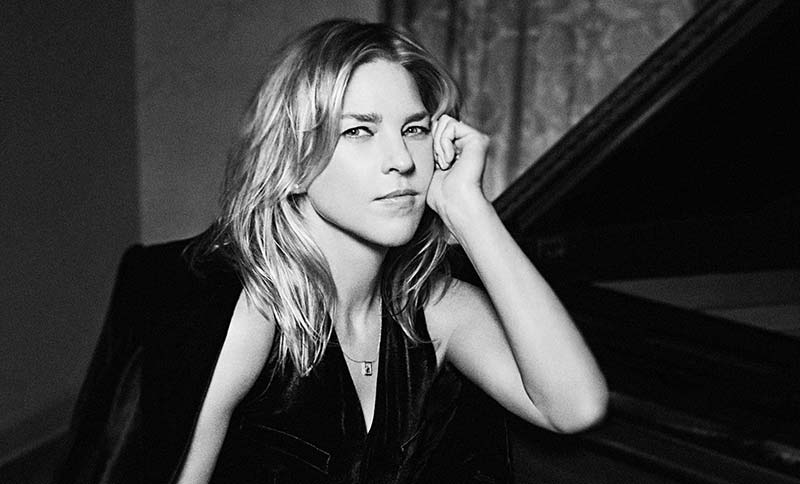 Diana Krall
19. 5. 2023
19.30
Bobycentrum
Singer and pianist Diana Krall confirmed during her JazzFest premiere in 2017 that she can create the atmosphere of a spontaneous and immediate party even in a sports hall. Now she is returning to Brno and we can look forward to an even more intense concert experience at the Bobycentrum.
With her early bop piano style and elegant, sultry vocals, Diana Krall hit the jazz world like a hurricane in the second half of the 1990s. A world that was then dominated by the Young Lions, the group supported by the labels of audio industry which was thriving at that time. Since those halcyon days, Diana Krall has moved on not only as a performer but also as a writer, and today no one can deny that, alongside her instrumental skills and mesmerising voice, she is not lacking the attributes of a genuine and fascinating songwriter. She has been nominated for ten Grammy Awards since 1996, twice turning nominations into wins, and in 2009 the prestigious Billboard magazine named her the second most important jazz personality of the first decade of the current millennium.
Critics and fans admire Krall for a long time. This is confirmed, among other things, by more than twenty million records sold worldwide as well as two million regular listeners on Spotify. Even after thirty years of a professional career, Diana Krall is not resting on her laurels. Since her last visit to Brno, she has released two albums. She recorded Love Is Here to Stay together with Tony Bennett and together they earned a Grammy nomination. Her latest album This Dream of You marks the culmination of her artistic journey with producer Tommy LiPuma. After his departure into musical heaven, three dozen unreleased Diana Krall tracks remained in the studio. The Canadian jazz diva selected the ten best of them and proved that her artistic standard is still set pretty damn high.
Line-up:
Diana Krall – piano, vocals, Robert Hurst – bass, Karriem Riggins – drums, Anthony Wilson – guitar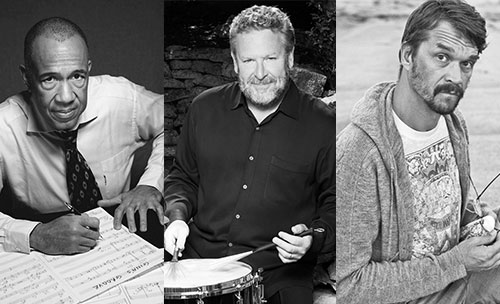 Clayton-Hamilton Jazz Orchestra
feat. René Marie, Akiko Tsuruga & Dan Bárta
12. 10. 2023
19.30
Sono Centrum
World big band and Czech singer on one stage? One of the most important contemporary jazz ensembles will present its Brno premiere – with Dan Bárta by its side.
The Clayton-Hamilton Jazz Orchestra has had an impressive thirty-five years career on the scene. The orchestra was put together in the mid-1980s by brothers Jeff (saxophone) and John (bass) Clayton along with Jeff Hamilton (drums). Even after the recent departure of Jeff Clayton to jazz heaven, CHJO sets the tone for the contemporary big band sound. After all, when the trio recruited the first members of the ensemble, they already stated the credo that besides technical instrumental proficiency and improvisational ability, the main criterion for selection must be dedication. "The motivation must be love for music and for your musical family. And anyone who thinks it's just about the concert itself need not apply," said the orchestra's founders. Of course, nothing has changed so far about that. The band excels beyond measure in its varied repertoire, to which the ensemble members themselves make numerous contributions with original compositions. It has grown and continues to grow in other unsuspected directions, for example, thanks to its collaboration with filmmakers or stars like Charles Aznavour or Diana Krall.
Another recipe for success is frequent collaboration with distinctive soloists. At the instigation of JazzFest Brno, the eclectic singer Dan Bárta will have the honour to stand alongside one of the most renowned big bands in the world, for whom John Clayton is exclusively arranging several songs. These will be performed with a full orchestra as well as a more intimate ensemble. American singer René Marie and Japanese organist Akiko Tsuruga will also spice up the concert with their skills. In short, an evening full of surprises, where only swinging yet sophisticated music remains the unshakable constant.
List of all sales points in the Czech Republic HERE.
Selected locations:
TO JE BRNO
INFORMATION CENTRE AND ADVANCE TICKET SALESPanenská 1
602 00 Brno
Mon-Sun: 9:00 – 18:00
When buying tickets in the brick-and-mortar shop, we ask customers to actively inform themselves about any changes regarding concerts. Current information on individual concerts is available at the presale point and also on the website and customer line of JazzFestBrno
If you have any problems with registration, booking or payment during the order process, please contact: 
info@goout.cz
If you wish to make a claim or request a refund in the event of a cancelled event, please email: 
info@goout.cz
20 % for ISIC student card holders, ITIC card holders, children under 15, seniors over 65 and ZTP/P card holders
info for disabled persons with disabilities: disabled persons with disabilities according to the valid price list, accompanying one person free of charge on the extension
reserved seats for wheelchair users, wheelchair access provided
reservation of tickets for disabled persons: vstupenky@jazzfestbrno.cz
Children up to 6 years of age are admitted free of charge to concerts, with no entitlement to their own seat.