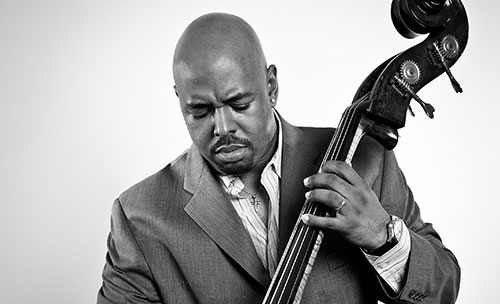 CHRISTIAN MCBRIDE & INSIDE STRAIGHT
3/3/2022, 7.30 pm
Sono Centrum
After the success of his big band the virtuoso bassist, bandleader and jazz guru returns to JazzFestBrno with the fiercely jazzy Inside Straight.
Christian McBride is a renowned virtuoso. He has won seven Grammy Awards in various categories and is an absolute natural in the world of jazz, R&B and fusion. In 2007, he premiered his quintet Inside Straight in concert at the legendary club Village Vanguard. Critics and fans alike were thrilled with this acoustic effort, and not surprisingly, for McBride, it's a return to his roots. The band has released two albums representing his vision of straight-ahead, uncompromisingly swinging jazz. After a hiatus of several years, Inside Straight is bringing the band back to the world's stages in 2022 with a new line-up and a grooving new repertoire.
McBride's song selection for this quintet is on the one hand carefully considered, but on the other hand never strays too far from song form and tonality. McBride is not afraid of vigorous phrasing or unusual instrumentation, none of which emerges as winner or loser in the soloist's "self-contest". Swinging bass lines contrast with more freely phrased saxophone, "blues-like" piano and polyrhythmic percussion to seamlessly recite their verses of black gospel. Pressurized innovative jazz with occasional spontaneous cacophony does not lack elements of funk or Afro-Cuban rhythms. Musicians who do not have only one musical face are often welcomed with open arms by audience of JazzFestBrno. Christian McBride undoubtedly belongs to this category of artists.
Line-up:
Christian McBride – bass, Steve Wilson – saxophone, Warren Wolf – vibraphone, Peter Martin – piano, Carl Allen – drums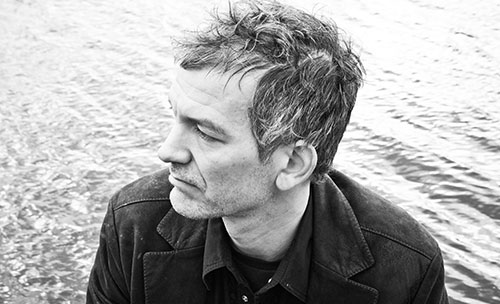 BRAD MEHLDAU & FILHARMONIE BRNO
6/3/2022, 7 pm
Mahen Theatre
The organic fusion of Brad Mehldau and the Brno Philharmonic promises an extraordinary experience at the intersection of the universes of jazz and classical music.
The American pianist Brad Mehldau has worked his way to a unique sound that many jazz adepts, not only the younger generation, are trying to approach. "I love Mehldau's music," pianist Enrico Pieranunzi told DownBeat magazine a few years ago. "And I'm far from alone. For there is something enticingly mysterious in his playing. Brad Mehldau is one of the few musicians whose music is not contained in the notes they play. Above all, he reaches his listeners with what's behind those notes. It's as if there's a whole unknown world behind the notes that you're drawn to."
After a thrilling performance with his trio and an intense solo recital, Mehldau will draw Brno fans into his world for the third time. This time he will be supported by the Brno Philharmonic orchestra. The core of the evening will be the music of Johann Sebastian Bach, to whom Mehldau has dedicated the album called After Bach. It features works by the renowned German baroque composer, each of which is followed by Mehldau's own composition inspired by what preceded it. In Brad Mehldau's case, this is certainly not some whimsical and daring jazzman's departure into the world of classical music. This is confirmed by his colleague, pianist Timo Andres, who says: "There have always been elements in Mehldau's style that remind us of Bach, especially his thickly woven voices – but he is not trying to imitate Bach or even dress up as him. Rather, After Bach explores their common ground as pianists, improvisers and composers, making implicit parallels explicit." It is often forgotten today that Bach was admired in his time primarily for the virtuosity and complexity of his improvisations. Brad Mehldau reminds us of this fact in a tasteful and original way.
Line-up:
Brad Mehldau – piano, Brno Philharmonic, Clark Rundell – conductor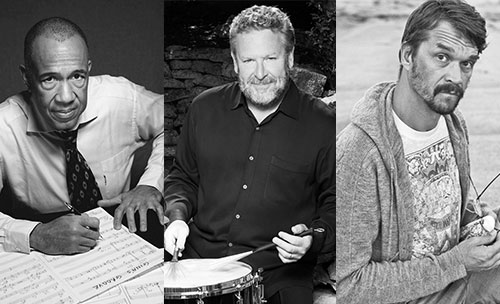 CLAYTON-HAMILTON JAZZ ORCHESTRA: JAZZ POWER & SOUL
feat. René Marie, Akiko Tsuruga & Dan Bárta
14/3/2022, 7.30 pm
Sono Centrum
World big band and Czech singer on one stage? One of the most important contemporary jazz ensembles will present its Brno premiere – with Dan Bárta by its side.
The Clayton-Hamilton Jazz Orchestra has had an impressive thirty-five years career on the scene. The orchestra was put together in the mid-1980s by brothers Jeff (saxophone) and John (bass) Clayton along with Jeff Hamilton (drums). Even after the recent departure of Jeff Clayton to jazz heaven, CHJO sets the tone for the contemporary big band sound. After all, when the trio recruited the first members of the ensemble, they already stated the credo that besides technical instrumental proficiency and improvisational ability, the main criterion for selection must be dedication. "The motivation must be love for music and for your musical family. And anyone who thinks it's just about the concert itself need not apply," said the orchestra's founders. Of course, nothing has changed so far about that. The band excels beyond measure in its varied repertoire, to which the ensemble members themselves make numerous contributions with original compositions. It has grown and continues to grow in other unsuspected directions, for example, thanks to its collaboration with filmmakers or stars like Charles Aznavour or Diana Krall.
Another recipe for success is frequent collaboration with distinctive soloists. At the instigation of JazzFest Brno, the eclectic singer Dan Bárta will have the honour to stand alongside one of the most renowned big bands in the world, for whom John Clayton is exclusively arranging several songs. These will be performed with a full orchestra as well as a more intimate ensemble. American singer René Marie and Japanese organist Akiko Tsuruga will also spice up the concert with their skills. In short, an evening full of surprises, where only swinging yet sophisticated music remains the unshakable constant.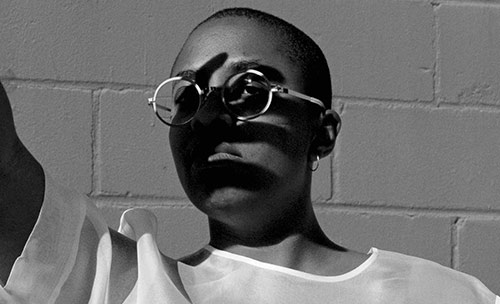 CÉCILE MCLORIN SALVANT
21/3/2022
7.30 pm
Besední dům
Singer who won a Grammy Award for Best Jazz Vocal Album three times in four years for three consecutive albums for the first time in Brno.
The American singer first caught the attention of jazz fans at the age of 21 with her triumph at the Thelonious Monk International Jazz Competition in 2010. While only ten years have passed since then, much has changed in the life of Cécile McLorin Salvant. Shortly before she released her second album, WomanChild, one of the New York Times critics predicted: "Though unknown to a wide jazz audience now, her future fame is unquestionable." Totally accurate prediction. WomanChild won a lot of awards and was nominated for a Grammy Award. She managed to turn the nominations into a later victory, but with even much larger success – winning multiple Grammy Awards for Best Vocal Jazz Albums in 2015, 2017 and 2018. Such accomplishments can be seen only rarely, much less in world of jazz music.
Cécile McLorin Salvant was born in Florida to parents from France and Haiti, her multicultural roots are important components of her music. Her latest studio album, The Window, was recorded as a duo with pianist Sullivan Fortner; and because of collaborating with larger ensembles in recent years, she claims to enjoy more freedom when working in a duo, which also offers a rich a range of possibilities as if there were a large band on stage.
Line-up:
Cécile McLorin Salvant – vocals, Sullivan Fortner – piano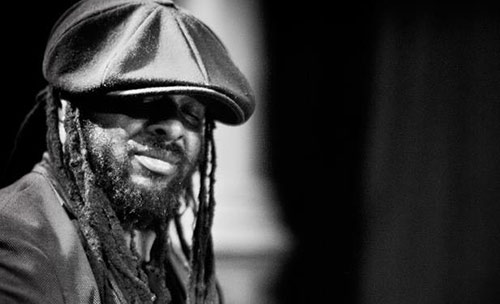 DELVON LAMARR ORGAN TRIO
9/4/2022
7.30 pm
Sono Centrum
A perfect blend of soul, jazz, rhythm & blues and rock & roll directed by the organist Delvon Lamarro.
The Delvon Lamarr Organ Trio was founded in the Spring of 2015 by Amy Novo, the wife and today also the manager of the organist Delvon Lamarr. Doesn't it sound like a fairy tale? She told her husband that she would take responsibility for his musical career so that all he needed to do in the future was to find teammates, write and play music. Many aspiring musicians, especially jazz musicians, dream of such a story.
The trio originally started with another guitarist and drummer. During the first year of their existence, the band was joined by the renowned and unique Jimmy James. The chemistry among the members of the trio was instantaneous and undeniable. With Delvona´s soulful organ sound, Jimmy´s raw guitar sound and a great drum groove, they mixed the perfect blend of soul, jazz, rhythm & blues and rock & roll. They started their career with a weekly "gig" in Seattle, then released their first album and set out on a tour of the United States and finally on a European tour.
The current drummer is an excellent groover Michael Duffy, so the Delvon Lamarr Organ Trio is even further shifting its original sound. The traditional organ trio takes on a new dimension.
Line-up:
Delvon Lamarr – B-3 organ, Jimmy James – guitar, Michael Duffy – drums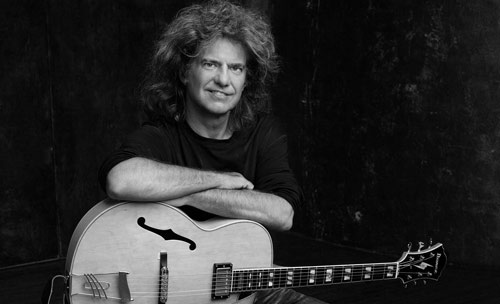 PAT METHENY: SIDE-EYE
26/4/2022
7.30 pm
Sono Centrum
Most fans associate the guitarist and composer Pat Metheny with the popular Pat Metheny Group. However, the musical presence of the twentyfold Grammy winner is reflectedmost of all in the Side-Eye project, which introduces the bandleader's great musicians of the next generation.
Pat Metheny does not need any lengthy introduction- his significance for jazz is undeniable. He began performing publicly as a teenager, and when he came to the Berklee College, where he wanted to study, he immediately found work as a teacher and a contract with the Gary Burton band – all down to his talent. In the Side-Eye band, Metheny provides space for keyboard player James Francies, and the drummer Joe Dyson. Metheny's support for younger colleagues is legendary, as he returns the favour he received from his elders in his youth. He is also well aware that the new blood will help his music: "I am inspired by the way they cope with the musical challenges of some of my older songs. At the same time, I was intrigued by the options where the music could go if I wrote new compositions just for them, " Metheny confirms.
Line-up:
Pat Metheny – guitar James Francies – piano Joe Dyson – drums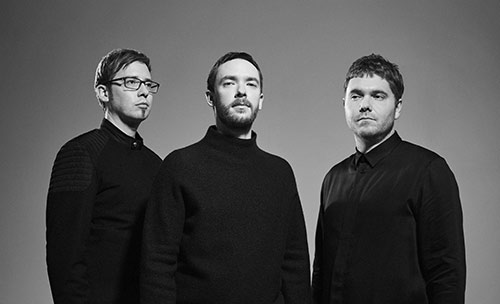 GOGO PENGUIN
1/5/2022
7.30 pm
Sono Centrum
Inspired by classical and electronic music, hymnal tunes and telepathic interplay. The GoGo Penguin trio is one of the most interesting bands on the contemporary British scene, and it is no surprise that the trio earned the name "Radiohead of British Jazz".
With their melodic lines and sophisticated harmonies, GoGo Penguin resemble a typical piano trio based on jazz and classical music, but their rhythms approximate electronic music. This combination of opposites is the reason why some critics labelled the band as post-jazz and although this issue has been widely debated, the same critics also agree that GoGo Penguin's acoustic-electronic sound is exciting and creates impressive and emotionally charged music. It is inspired by a heady combination of influences from artists like Brian Eno, John Cage or Squarepusher, but also pulls from the atmosphere of the rain-drenched streets of Manchester. It features elements of rock and minimalism, as well as trip hop and dance music.
GoGo Penguin do not get overly concerned with traditions, so while it is usual to name a debut album eponymously, a record called "GoGo Penguin" is out as their fifth one. It is this album, full of musical adventures and released by the prestigious label Blue Note, that GoGo Penguin will present at the JazzFestBrno festival.
Line-up:
Chris Illingworth – piano, Nick Blacka – double bass, Rob Turner – drums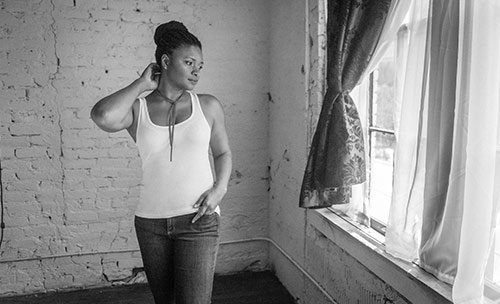 LIZZ WRIGHT
30/10/2022
7.30 pm
Janacek Theatre
What is the recipe for popularity with listeners? An angelic voice, charismatic presentation, earthy and soulful songs, and a great backing band. Lizz Wright offers all this in anexceptionally balanced combination, spiced up with the tradition of African-American spirituals and blues.
Born in Georgia, USA, she grew up in the family of a pastor who introduced her to gospel music. She made a spirited entrance to the jazz scene at the beginning of the millennium, when she recorded her still admired debut Salt. Since then, five other highly regarded albums have been released. With an increasing number of her own compositions, the artistic truth of Lizz Wright is increasingly revealing itself and her unique ability to blend original colours from the musical palette whilst leaving space for gospel, folk, jazz, pop and blues is increasing. Her project with the Brno Philharmonic and the Baroš-Dorůžka-Šoltis rhythm section provides an extraordinary opportunity to hear, for the first time in the Czech Republic, the resonant voice of Lizz Wright against the background of orchestral colours.
Titular partner of this event is Czech TV.

Line-up:
Lizz Wright – vocals Kenny Banks – piano Adam Levy – guitar Ben Zwerin – bass guitar Michael Jerome Moore – drums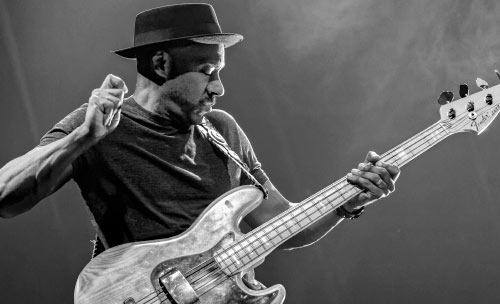 MARCUS MILLER
4/11/2022
7.30 pm
Janacek Theatre
The master of bass guitar is performing in Brno for the first time ever.
Marcus Miller is considered one of the most important leaders in jazz music of the past four decades. He is particularly famous for his collaboration with jazz genius Miles Davis in the 1980s, his collaborations on the projects of David Sanborn, Luther Vandross, Aretha Franklin and, last but certainly not least, for his solo career. The composer, producer and two-time Grammy Award winner, whose signature feature is the playing the bass with the slap technique, also collaborated with global stars like Michael Jackson, Frank Sinatra and Elton John.
Miller was chosen by UNESCO as the face of its peace campaign and also became a spokesman for the Slave Route Project. Even movie fans know his name. For example, he recently composed music for a drama called Safety which depicts the background of the professional American football environment. Miller's lastest studio album, Laid Black, came out in 2018, and the veteran bass player has tastefully mixed R&B, trap, funk and hip-hop with jazz in his unmistakably liberal way. "Miller has managed to emphasize the commonalities of these genres, taking advantage of the originality of each of them," recounted Dan Bilawski, JazzTimes magazine reported. Miller's skill in navigating diverse genre waters is simply legendary. And interacting with the audience works best for him by far.
We are negotiating new dates for concerts below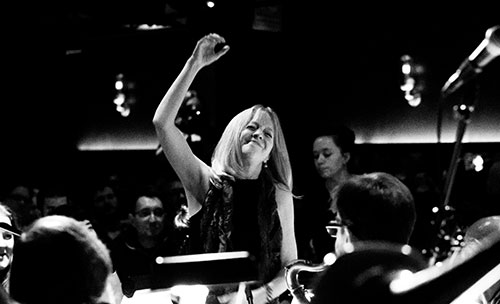 MARIA SCHNEIDER ORCHESTRA
Seven-time Grammy winner, musical visionary and leader of her own "slightly different" jazz orchestra Maria Schneider for the first time in the Czech Republic! And that's just a few months after she released her highly successful album Data Lords, which reviewers are not hesitant to call her magnum opus.
It takes a lot of self-confidence these days not to let your music stream for free on Spotify, YouTube and other platforms. Composer Maria Schneider has it, and so, apart from a few teasers, you can enjoy her art exclusively the moment you take your wallet out of your pocket. But it's an experience any fan will gladly do for – after all, Maria Schneider was one of the pioneers of crowdfunding at the start of the millennium and is still one of the most progressive artists in the business today.
More importantly, however, is the fact that her music is brimming with originality. Critics describe it as "evocative, majestic, magical, beautifully heartbreaking, imaginative, revelatory, haunting, daring and unclassifiable". All these adjectives, however, rather confirm that all distinctive music is difficult to describe in words. What is completely undeniable, is that Maria Schneider's diverse output blurs the boundaries between genres. Indeed, she is one of the few to have won Grammys in multiple genres – for jazz, classical music and for her collaboration with David Bowie. She has also regularly won numerous awards in the polls of DownBeat and JazzTimes magazines. Her latest double album, Data Lords, is no exception. Divided into two thematic halves inspired by the digital and natural worlds, it was recorded with her orchestra, which includes Donny McCaslin, Joe Robinson and Scott Robinson, among others. The album earned her two golden gramophone trophies and NPR's Nate Chinen wrote about it: "It's music of extravagant mastery imbued with the spirit of risk." Risk is omnipresent in Maria Schneider's work, but attending her concert is a safe bet.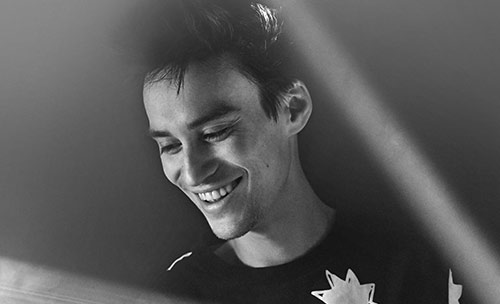 Multi-instrumentalist and singer Jacob Collier, once a prodigious teenager, now a respected versatile artist, who is probably predestined to become a legend, will perform in Brno for the first time in his career.
Few people possess as much imagination and musical talent as Jacob Collier. He was born in London, and with his talent boosted by diligence and creativity, it is no surprise that he is described by many as one of the most innovative musicians of his generation. By the time he was barely twenty, he had already drawn the admiration of the likes of Herbie Hancock and Pat Metheny and eventually signed with producer Quincy Jones.
Collier first made himself known to the public about a decade ago, in his teenage years, through social networks and homemade YouTube clips. He recorded his debut album In My Room (2016), not surprisingly, in his room. What happened next? Enthusiastic feedback from the general and professional public was eventually crowned off with two Grammy Awards. This huge success resulted in collaborations with pop and hip-hop artists like Coldplay, Tori Kelly, SZA and many others. Since 2018, Collier has been working on the Djesse series, a project of unprecedented scale – four albums consisting of fifty tracks and in collaboration with more than thirty musicians. Each album represents a completely unique musical world in sound, style and genre. Tracks from Djesse Volumes 1 & 2 earned him two Grammys for Best Arrangement, and another one in the same category in 2021 for Djesse Volume 3, which was also nominated for Album the Year in the main category.
Collier amazes listeners not only with his phenomenal musical ear, deep knowledge of the music craft and the ability to play almost any instrument, but also with his rich and famously wide vocal range. On top of everything else, his charisma easily transcends the boundaries of musical genres.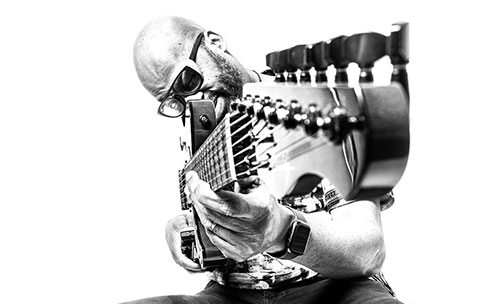 Guitarist Lionel Loueke comes with his latest solo project inspired by the work of Herbie Hancock to play with his Czech friends – David Dorůžka, Luboš Soukup and Jiří Slavík.
Over the past two decades, Benin-born Lionel Loueke has left a visible imprint on the world music scene, both with his own work and his unmissable role in the bands of jazz personalities such as Herbie Hancock, Terence Blanchard and Gretchen Parlato. Jazz Times magazine describes him as a musician who "is deeply respected by peers and older bandmates alike for his individualism, rhythmic ability and massive harmonic knowledge, as well as his ability to sing in one meter and play in another one or the way he turns the guitar into a virtual Afro-Western orchestra." The leitmotif of Loueke's new solo album HH is the music of his mentor Herbie Hancock, with whom the African guitarist has played for over fifteen years. Loueke has influenced Hancock's hits and lesser-known songs with his own unmistakable sound. It is the repertoire from the new album that will show one of Loueke's many faces.
The charismatic guitarist will introduce the next such face in the second part of the concert, when he will be exclusively joined by his Czech friends – his classmate from Berklee College of Music, guitarist David Dorůžka, saxophonist Luboš Soukup, who recorded the successful album Earth with Loueke, and last but not least, double bassist Jiří Slavík, who has always been close to African music and has also played with Loueke before. In short, mix four handfuls of Herbie Hancock, add three pinches of local jazz, pour on a few litres of African immediacy and a unique musical cocktail is born.
Line-up:
Lionel Loueke – guitar and vocals, David Dorůžka – guitar, Luboš Soukup – saxophone, Jiří Slavík – double bass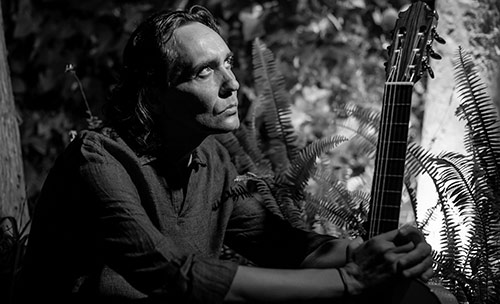 Interaction of jazz with other genres has already produced a lot of first-rate and distinctive music. The blending of jazz with flamenco is another pertinent example. This will be confirmed by guitarist Vincente Amigo, the Latin Grammy winner and the man considered to succeed Paco De Lucía. Amigo will perform a concert in Brno for the first time in his career.
The unique artist, composer and producer Vicente Amigo began performing on flamenco stages as a teenager. He has since received numerous awards, even the Latin Grammy or the Gold Medal of the Merit in Fine Arts. Throughout his career, this Andalusian guitarist collaborated with many legends of flamenco music, among them are Paco de Lucía or Camarón de la Isla, but Amigo was equally influenced by jazz guitarists John McLaughlin and Al Di Meola.
In Brno, Amigo will mainly present tracks from the record Memoria de los Sentidos (Memory of the Senses), which was nominated for a Grammy Award in the World Music category. On his eighth studio album, he recalls his roots and the highlight for many listeners is a composition called Requiem, an intimate tribute to Amigo's great friend, maestro Paco de Lucía. Amigo is an outstanding musician, Pat Metheny called him the best guitarist in the world. His concert will be an exhilarating experience.
Line-up:
Vicente Amigo – guitar, band – TBA
Titular partner of this event is Czech TV.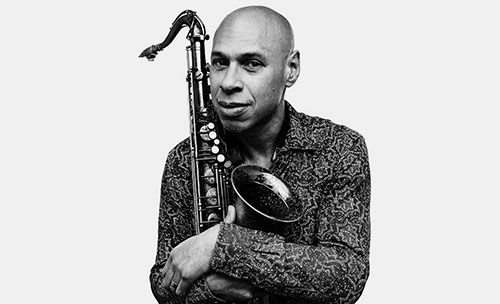 A former "young lion", the saxophonist, composer and elemental jazz musician Joshua Redman, is now a "lion in the best years". He is completely at home in his musical territory, and although he likes to push beyond its limits, he still remains mainly a jazz lion.
This is demonstrated by his most stable project, the Quartet, which earned him fame in the 1990s. The features that make this incredibly well-together band instantly recognizable include the unique and irresistible tone of Redman's saxophone, the unbridled GregHutchinson´s drumming, the soulful and earthy Reuben Rogers´ double bass, and Aaron Goldberg's piano balanced and empathic accompaniment. The quartet has released a fresh album Come What May, which loosely follows the golden era of the band on the Beyond and Passage of Time albums. Redman, approaching his sixth decade is on optimum creative form, demonstrating with his refined taste, open-hearted approach and global experience why jazz is still such a major force in music.
Line-up:
Joshua Redman – saxofon, Aaron Goldberg – piano, Reuben Rogers – basa, Greg Hutchinson – bicí